How Does Furniture Warehouse Storage Benefit Business Owners?
Whether your business is just starting out, expanding or renovating, you may find yourself in need of a storage solution for business furniture, equipment and other assets. While self-storage options may work for a few small items, if you have a lot of furniture and equipment to store and protect, working with a furniture warehouse storage professional may be best.
Working with a warehouse storage company typically brings more benefits than a self-storage company. When you contract with a commercial furniture storage company, you may also have access to full-service warehousing, which better accommodates the needs of a commercial business. In addition to offering high-quality and secure storage, they may offer helpful services like furniture delivery, cross-docking and bulk shipping to ensure the smoothest storage and delivery process for your business.
Keep reading to learn more about how warehouse storage for furniture can benefit you and your business.
Who Benefits From Warehousing and Distribution Services?
No matter the industry, many businesses benefit from contracting with a furniture warehouse storage company. The peace of mind from the added security of valuable business assets is often priceless for many companies. A few businesses in particular that need warehousing and distribution services include a range of commercial businesses and those in the hospitality industry. However, almost any company can benefit from these services.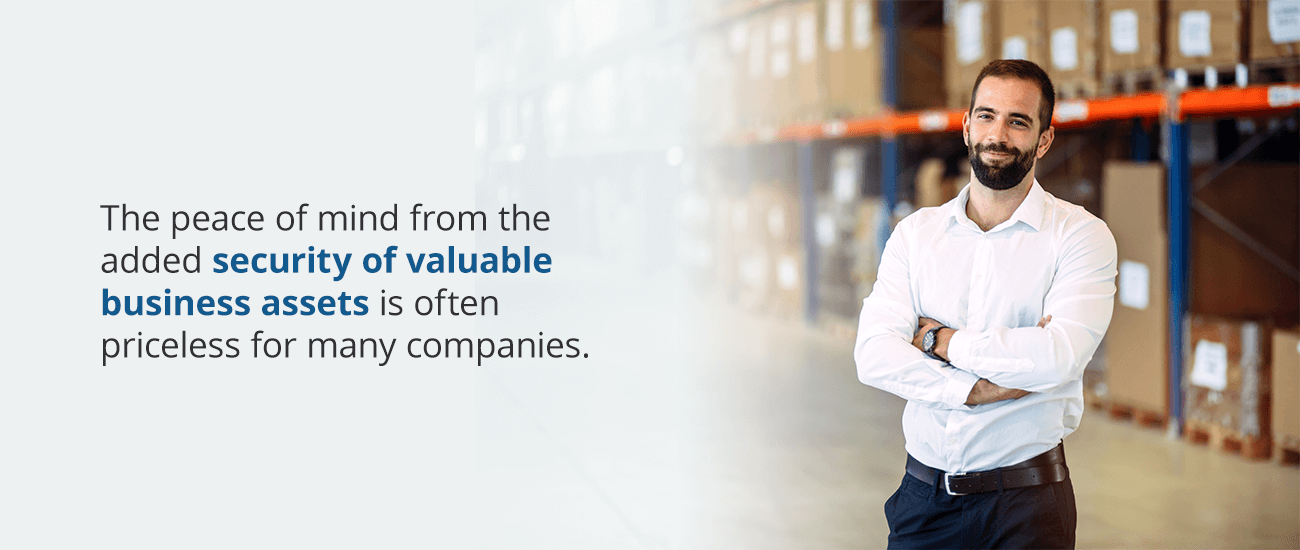 Benefits for Commercial Businesses
The benefits of warehousing storage for commercial businesses are plentiful, from contracting services like landscaping and roofing to retail and general business. Contracting service providers sometimes do not own office space, but they have plenty of tools and equipment that require safekeeping and care. Using a commercial storage facility is likely to fit the bill for a contractor's needs, allowing them to easily access the equipment they need for a job and leave the rest safe and sound in storage.
It is the nature of retail businesses to have a lot of physical items that require safekeeping. Whether you have surplus inventory, supplies for events and trade shows or seasonal merchandise, extra storage space will likely come in handy. This point is especially true for retailers that fill online orders.
Of course, general businesses also benefit from safeguarding their valuable business equipment and having extra storage for files and items they do not need to access regularly. Rather than exposing these important items to potential damage or burglary, commercial storage for businesses will protect your valuables and maximize your physical office space.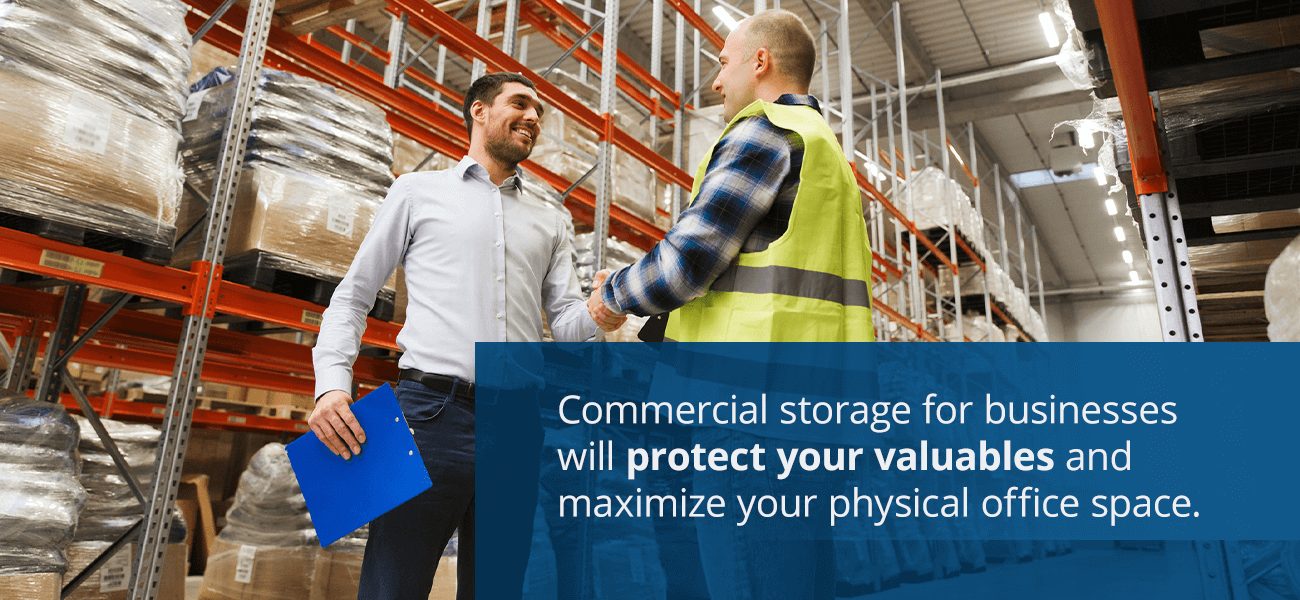 Benefits of Warehousing for the Hospitality Industry
People say first impressions are everything — and that is especially true for the hospitality industry. Hotels and other companies in hospitality must keep their furniture and equipment well-protected and in pristine condition. No one wants to stay at a hotel or bed and breakfast where the furniture is falling apart, smells musty or appears dingy due to being kept in a poor storage unit. Thus, proper storage for hotel furniture is an investment worth the price for making a good impression on new customers and ensuring they come back again.
Similarly, no one wants to use an event company that's event supplies look dirty and outdated. These things are a reflection of your business and can make or break new sales and return customers. Working with a commercial warehouse storage and distribution professional can help protect your business assets, and perhaps more importantly, your reputation.
Restaurants can almost always benefit from using a company that specializes in warehousing for hospitality. If you are a restaurant owner, you likely want to devote as much space as you can to the dining area to accommodate more customers and generate more revenue. Offloading unused or non-essential items to warehouse storage will help ensure your restaurant is uncluttered and you maximize space for your customers. Whether you need to store items for special events or have large spare appliances, storing these items away from your restaurant will help your team access what they need and save precious square footage for the kitchen and dining areas.
5 Benefits of Warehousing Furniture for a Business

There are several business benefits to commercial furniture warehousing, including better use of spaces, increased security and more.
1. Optimize the Use of Commercial Spaces
Commercial space is an important asset. Keeping your office a clean, welcoming and distraction-free environment for employees is vital for productivity and ensuring employees enjoy coming to work each day. If you are outgrowing your current office space or preparing for a relocation or expansion, you may find your existing office space is cluttered with extra desks, filing cabinets and computers. Working with a secure warehouse storage company to keep excess items offsite can be an ideal solution to maximize and declutter your current space.
If your business has a lot of seasonal or event material you need to store, warehouse storage is a great option for keeping your materials safe, organized and secure until you need them again. There's nothing worse than grabbing an event sign or tablecloth the week before an event only to find it is broken or extremely dirty. Warehouse storage will help avoid these last-minute issues and keep your event materials looking professional. 
2. Security for Valuable Property
One of the most significant investments for a business is its resources. You spend a lot of money on desks, computers and other furniture essential to your business. When you need to store these items, you want to rest assured they are protected from environmental damage or theft. However, finding a secure place to keep these items can be difficult—especially if you are an entrepreneur working out of your home or a shared office space.
When you contract with a furniture warehousing company, you'll receive access to enhanced security features such as surveillance cameras, security fences, exterior lighting, security guards, authorization to access items and gated entrances that require a passcode. All of these measures ensure your business furniture and assets are well-protected from burglary or mishandling.
Additionally, furniture warehouse storage companies are set up to protect your property against environmental damage. Warehouse storage facilities are often built for disaster safety and offer fire-safe storage. They may also provide insurance for other incidents. Be sure to ask these questions, but you can often rest assured your valuable items are secure and well-protected.
3. Better Management of Future Assets and Short Term Surpluses
If you are preparing for a business expansion or relocation, you may find yourself with more equipment than you currently need and nowhere to put it. While stockpiling expensive computers and furniture in an empty closet may seem easy, doing so will not protect those investments. The last thing you want is for these brand new items to become broken or damaged. Using warehouse storage is a better option for storing new items while your business is in any type of transitional phase.
Likewise, suppose your retail store is transitioning seasonal merchandise or has an excess of inventory until a big upcoming sale. In that case, you want to be sure this surplus is in safekeeping until you are ready to use it. Commercial warehouse storage can keep these items in prime condition until you need to access them. Some warehouse storage companies will even offer delivery services to bring these items to your location when necessary.
4. Environmental Controls
As mentioned earlier, environmental damage is a genuine threat to your business items. When left in the office, your valuable property can become the victim of water damage from a burst pipe, fire damage from someone in the office next door or mishandling resulting in broken goods. Unfortunately, your primary office is not always the safest place to protect your business equipment.
As a result, many businesses choose to work with a professional for commercial furniture storage. It is an excellent long-term investment to protect your business valuables, ensuring they are kept in tip-top condition and will last for years to come. That is especially important if you deal with high-end, expensive products that will have a substantial impact on your business if damaged.
5. Lower Overhead
As we explored, several enhanced security measures come with commercial warehousing, from surveillance cameras to fire and disaster safety measures that protect your property. If you were to invest in these measures independently, the costs could easily add up to thousands of dollars for the initial investment. This expense doesn't include the time and cost to have an internal team member or external security company monitor the surveillance system.
Contracting with a warehousing company specializing in commercial business storage is a much more cost-effective way to protect and store items for your business than trying to implement these storage security measures on your own.
Services Associated With Full-Service Commercial Warehousing
When you choose to contract with a full-service commercial warehousing company, they should offer additional services for your convenience.
1. Warehousing and Storage
The primary benefit of working with a full-service warehousing and distribution company is the warehousing storage component. As discussed, these companies are dedicated to providing a safe and organized manner of storing your goods. Since this is what commercial storage companies specialize in, they will often be able to track details necessary to the storage of your assets, such as where exactly items are located, the arrival date of items, the length of storage time and the number of goods available.
2. Cross Docking
Another essential benefit of commercial furniture distribution services is cross-docking. Cross-docking is an efficient way of distributing goods that often eliminates or minimizes the time needed for storage. Cross-docking involves items that are typically unloaded, sorted and directly re-loaded for delivery or broken down into smaller shipments for faster delivery times. These supply chain efficiencies result in significant savings on inventory handling and product storage in the long run.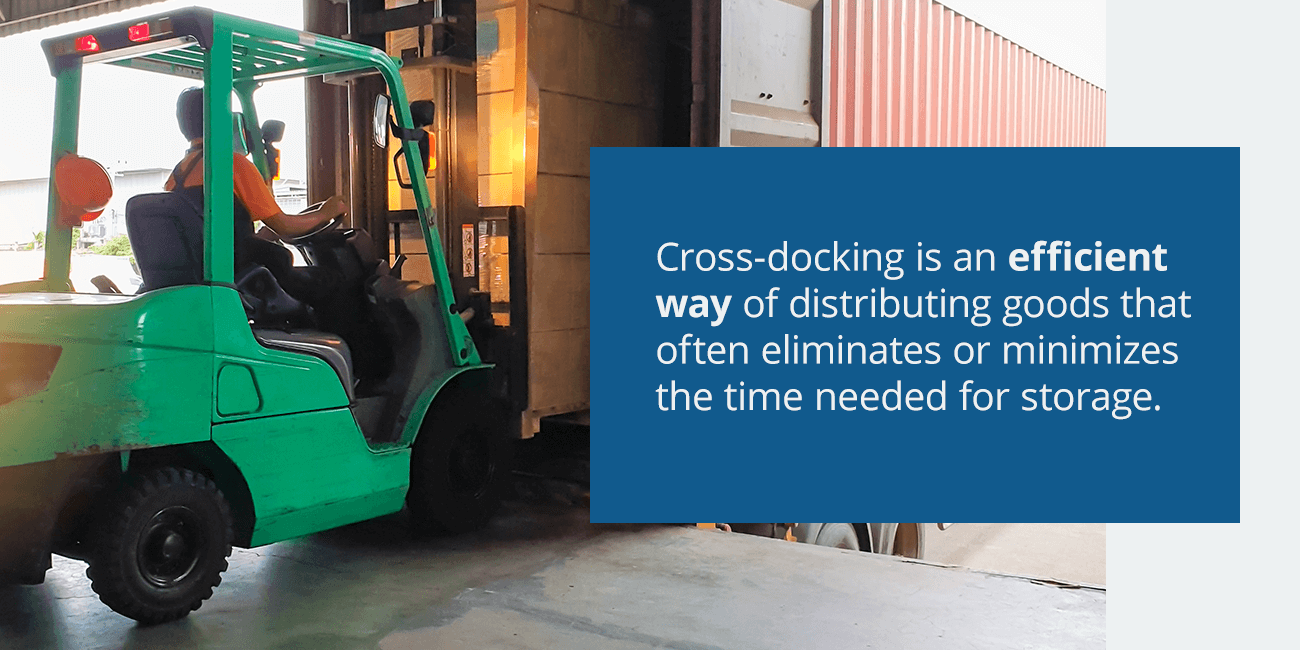 Cross-docking is particularly valuable for businesses that have high volume and fast-moving inventory. With cross-docking, products spend little to no time in the warehouse before being shipped out to the customer. This situation allows businesses to get goods to consumers faster and gives them a competitive advantage. Innovative distribution services companies will offer cross-docking, so be sure to ask about this offering.
3. Break Bulk Shipping
If your business requires storing and distributing items in breakbulk, commercial warehousing can be highly beneficial. Breakbulk shipping often requires that goods be loaded individually and shipped in a very specific way. Commercial warehouse and distribution companies should be able to store items as required and transport items according to your specifications, whether in bags, boxes, drums, crates or barrels. If you need to ship and store items of significant size or length, they may be able to accommodate those needs, as well.
4. GPS Distribution Services
If you are storing many goods in a warehouse, you will eventually need to move these to another location. Whether you need to deliver crates to customers or ship office furniture to your new location, professional distribution services will be a time-saving and efficient benefit for many businesses. Professional warehousing and distribution companies should offer GPS distribution services.
GPS distribution allows your distribution company to track the transportation of your goods and ensure you always know where your items are located. This aspect is critical to prevent items from becoming lost during shipping and ensuring your goods reach their intended destination on time.
Choose OTM Furniture Installation for Your Warehouse Storage Needs
For more than 10 years, OTM Office Furniture Installation has been a trusted service provider for various businesses, including hotels, dealerships, government organizations and more. Businesses across the country choose OTM for furniture storage and distribution needs. We offer unique benefits compared to other commercial storage companies, including:
Prime location serving businesses nationwide: 

While our roots are in Northern California, we have since expanded across the state and have a successful track record for completing jobs across the country.

Value-added to your existing operation: 

Our services can create value for your operations through enhanced supply chain management.

Professionally managed warehouse and distribution services: 

To give you peace of mind about inventory and delivery management, you can work with our expert team.

Secure warehouse space: 

To protect your business assets and make them easily accessible to the right people at the right time, you can enjoy completely safe and secure warehouse spaces. This aspect brings you peace of mind.

Reduced overhead costs: 

You can pay less to protect, store and ship your products than if you incurred the costs internally.

Extended support: 

With a dedicated project coordinator, you will always have the support you need to answer questions and ensure projects are completed on schedule.
By harnessing technology, following a tried-and-true process throughout the course of every job and building a humble and responsive team dedicated to customer service, we are proud to be a leader in furniture warehouse storage and distribution services.
We take our commitment to our customers seriously and strive to act as an extension of your company. We understand that our performance can directly affect your relationships, reputation and bottom line. We would love to see how we can support your unique business needs. Feel free to contact us today or call us at 833-956-3500 to learn more about how we can help.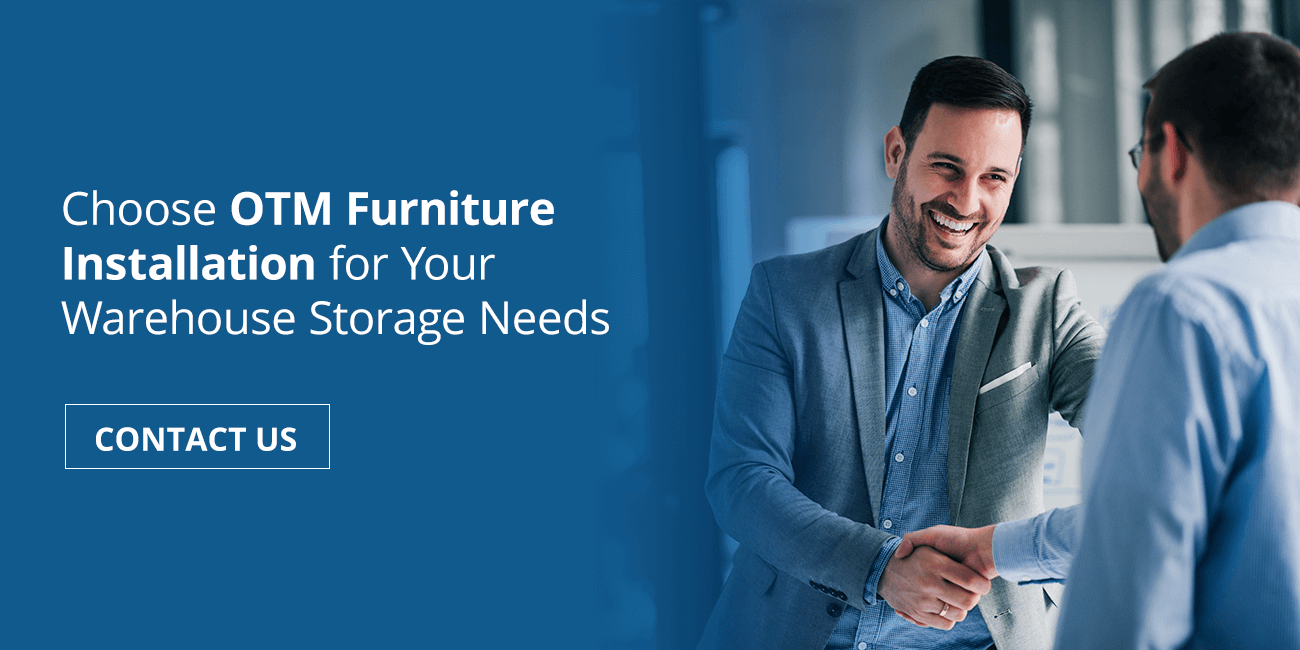 Share: