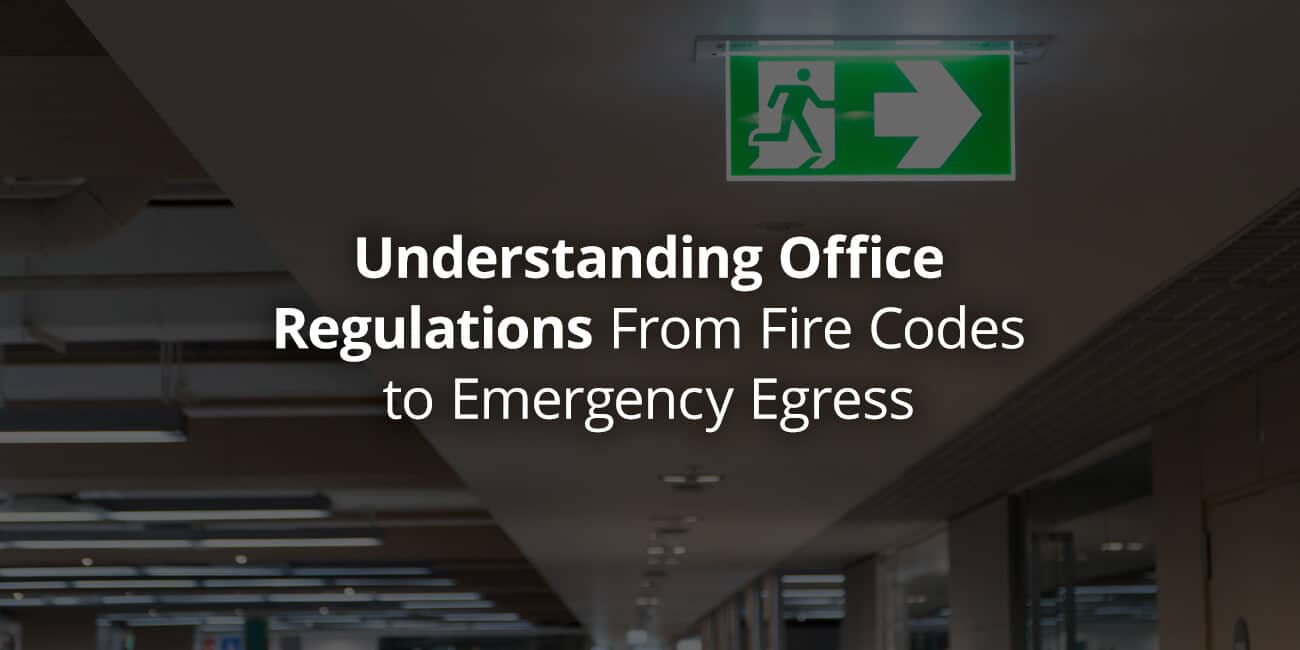 When setting up an office or renovating an existing space, it's vital to understand all office regulations that can impact your workspace's safety, efficiency and legality. Keep in mind the necessary fire codes, emergency egress regulations, electrical codes and ergonomic safety measures for a compliant office design.
California Fire Codes
California office regulations include several fire codes for testing the flammability of office furniture. Employers can minimize and eliminate office fire hazards with properly tested and certified products for the workplace. It's crucial to choose a fire protection rating that fulfills your business's safety requirements. Strive to know the difference between CAL 117 and Cal 133 fire ratings to ensure you choose the correct items.
California Technical Bulletin 117 (CAL 117)
While only legally binding in California, CAL 117 sets a national standard for flammability regulations for upholstered furniture. Companies across the country consider CAL 117 certification a must-have for their office furniture. Flammability tests help determine the upholstery's burn resistance.
For a product to receive the certification, its upholstery must pass flammability tests for both smoldering and open flame conditions. A qualified flame testing laboratory must perform smolder and open flame tests. Here, experts operate safely with a closed testing chamber. Then, they use established criteria for flame spread and how much smoke, heat and carbon monoxide formed to determine the fire rating.
California Bulletin 133 (CAL 133)
CAL 133 sets the standard for flammability regulations for furniture used in public spaces, including furnishings in privately owned offices with ten or more workers. While CAL 117 certification is limited to the product's upholstery, a CAL 133 fire rating requires that the entire product undergoes testing for flammability.
Again, smolder and open flame tests are required for each part, from the fabric and framework to the upholstery and inner material. Because all variations must pass the fire and flammability tests, CAL 133 certification is a challenging and intricate process. It's crucial for professionals to perform testing for CAL 133 at a qualified testing laboratory. This requirement ensures tests occur safely per California fire codes.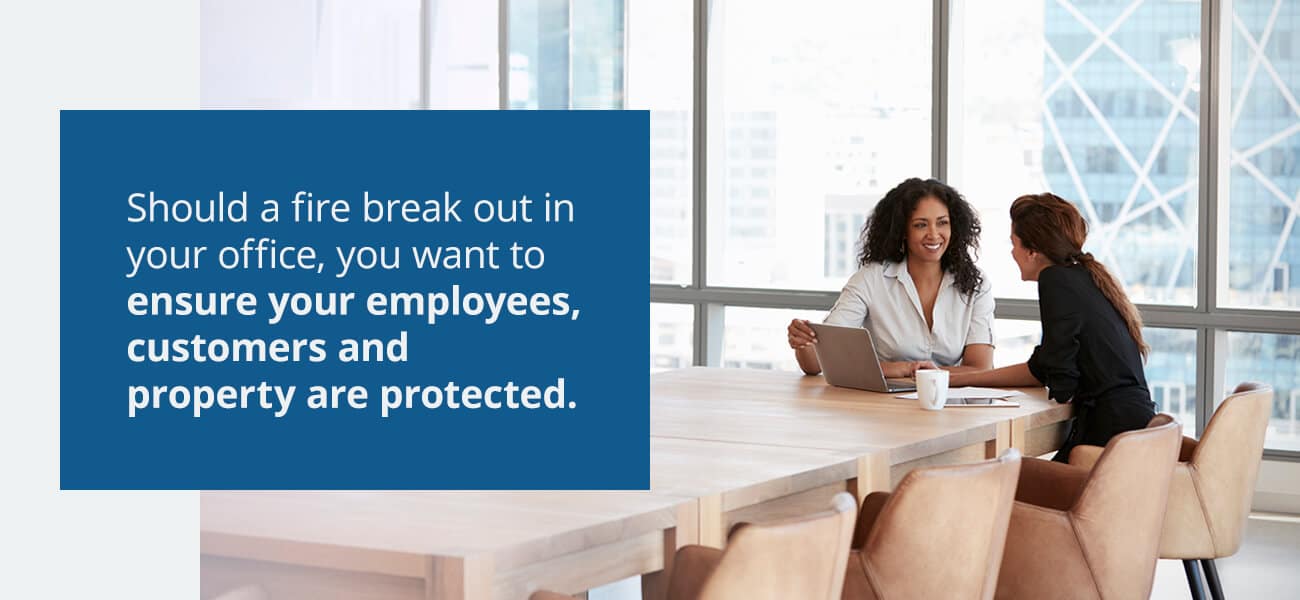 Local Fire Ordinance Requirements
As an office manager or business owner, you should follow California state fire ordinances and local fire ordinance requirements. Your office furniture may require specific methods and standards for fire testing based on its intended use in your area. For example, local fire guidelines may specify different criteria for fabric, depending on whether you use it for seating, drapery or wall coverings.
Should a fire break out in your office, you want to ensure your employees, customers and property are protected. The best way to maintain a safe workplace is to ensure your furniture complies with all office furniture fire regulations on a state and local level. Be sure to look into your municipality's fire codes so you know how to comply.
Emergency Egress
An emergency egress, or exit route, is a continuous and unobstructed passage out of a workplace and to a place of safety. An exit route encompasses the entire path of exit travel, consisting of the exit itself, the exit access and the exit discharge.
Generally, the exit is the portion of an exit route separated from the regularly accessible workplace areas. The exit may be a door strictly marked for use in an emergency or an entire accessway for protected travel to the exit discharge. The exit access leads people to the exit, while the exit discharge leads people from the exit to the outside place of safety.
How Many Exits Should Businesses Provide?
The typical workplace must provide two exit routes, though there are several qualifications and exceptions to this rule. Every workplace must have enough exits to allow for prompt evacuation of all occupants during an emergency. Key factors when determining the number of exit routes required for a particular space include:
The building's design occupant load.
The size of the workplace.
The common paths for exit travel.
The number of employees.
While two exits are standard, certain circumstances may permit only one required exit or require extra access points for safe evacuation. If you have several hundred employees in one building, for example, you must provide more than two exits so they can feasibly exit the space. Essentially, the more employees in a space, the more exits you have to offer to ensure they have a safe and reasonable exit point.
Whether your workplace needs two exits or four, it's best to position them as far away from one another as possible in case of fire or smoke blockage.
Signage for Emergency Egress
Install signage for emergency egress at the exits and throughout the exit access points. The "EXIT" signs should be legible and visible at all times. Any doors or passages along an exit access must have a "Not an Exit" marking. Otherwise, you should be able to identify it by its use. If left unmarked, they may be mistaken for an exit and put your employees in danger during an evacuation.
Post directional signs along the exit access to guide occupants toward the nearest exit and exit discharge. There must be a clear line of sight to an exit sign or directional sign at all times to help people evacuate quickly and efficiently. Keep exit route doors free of decorations or signs that obscure the emergency signals, as the signals should always be visible.
In addition to signage for emergency egress, you want to provide adequate lighting throughout the exit routes to highlight exit signs and exit doors. The office design should allow an employee with normal vision to locate the nearest exit from any point in the workplace.
Electrical Requirements
Every workplace must comply with various electrical requirements that provide practical safeguarding for people and property. Electrical hazards tend to occur when wiring systems are overloaded due to improper preparations.
When you increase electricity usage without adhering to electrical codes, you create an unsafe workplace. Office electrical regulations will plan for future increases in electricity use and decrease the risk of overloading the wiring system.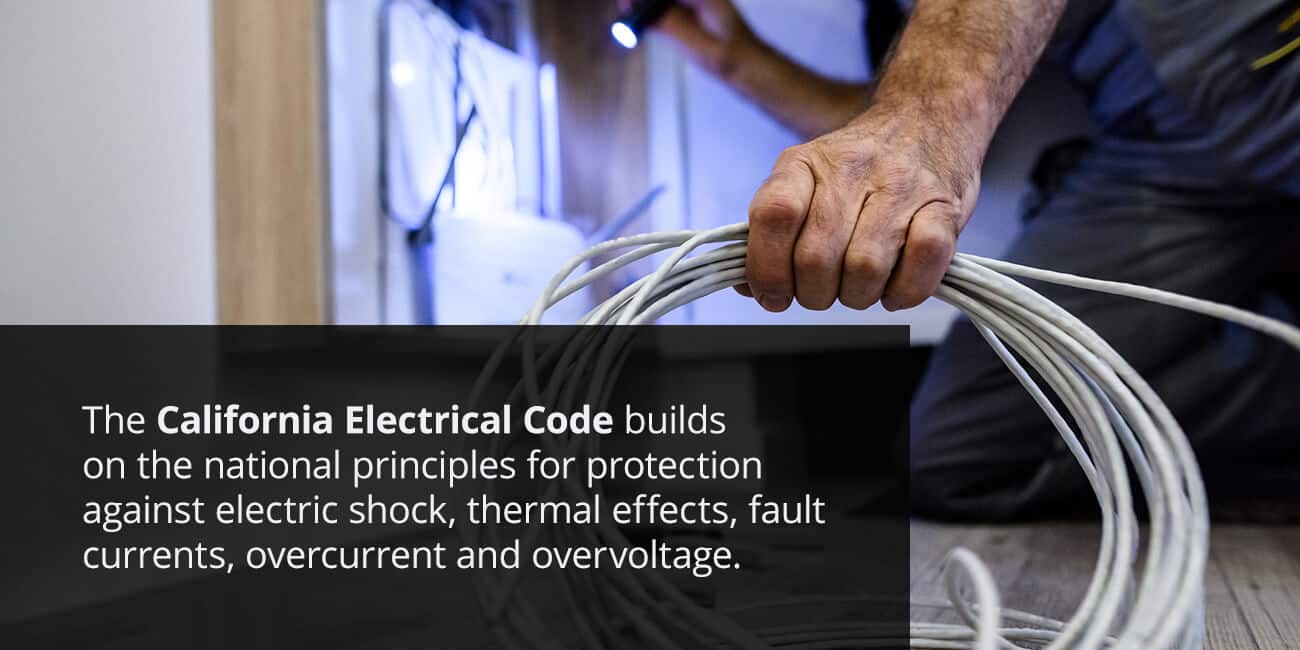 California Electrical Code
The California Electrical Code covers all aspects of the installation and removal of:
Electrical equipment, conductors and raceways.
Communications and signaling equipment, conductors and raceways.
Optical fiber cables and raceways.
These electrical regulations apply to all public and private premises, including office buildings and other installations used by the electric utility. As a business owner or office manager, your workplace needs to comply with the California Electrical Code.
For fundamental safety principles, the National Electrical Code refers to Section 131 IEC 60364-1 of the International Electrotechnical Commission Standard. The California Electrical Code builds on the national principles for protection against electric shock, thermal effects, fault currents, overcurrent and overvoltage.
Section 110.3 of the California Electrical Code covers the required examination, identification, use and listing for any equipment you plan to install. Proper electrical testing will evaluate the equipment based on its:
Suitability for installation.
Mechanical strength.
Protection covers for durability.
Electrical insulation.
Wire-bending and connection space.
Arcing effects.
Heating effects under normal and abnormal conditions.
Classification by type, size, current capacity, voltage and use.
Other factors that contribute to practical safeguarding from electrical hazards.
Equipment testing is necessary for a product's certification, or listing, and ensures safe use upon installation.
Licensing and Safety
A qualified electrical testing laboratory should list the equipment before installation. If a properly equipped laboratory has listed the equipment as suitable for installation and use, you can have an expert install the product without immediate inspection. This condition is only valid for factory-installed internal wiring systems and professionally constructed equipment. There should still be a test for damage during the installation, even if a thorough inspection is unnecessary.
As long as the installed equipment meets suitability standards, it may be new, reconditioned, remanufactured or refurbished. Listed equipment will have a description marked on or provided with the product, signifying that the tested and certified product complies with electrical requirements for safety standards. You may identify the suitability for a specific purpose, environment or application within the listing. This identification must be relevant to the product's end-use at your workplace.
Keep in mind that only qualified labs can ensure that a product achieves the appropriate standards for safety. The Occupational Safety and Health Administration (OSHA) recognizes electrical testing laboratories that are qualified to uphold the requirements of OSHA electrical standards.
OSHA Standards
While California's fire and electrical codes aim to protect all occupants and property inside a workplace, the California OSHA standards for offices aim to keep workers safe. Business owners and office managers are responsible for ensuring they meet all workplace safety criteria.
General Duty Clause
OSHA's General Duty Clause requires that in addition to compliance with occupational safety and industry-specific standards, all employers must provide a workplace "free from recognized hazards that are causing or are likely to cause death or serious physical harm."
If the following factors are proven true, an employer can be cited in violation of the General Duty Clause:
A severe hazard exists in the workplace to which employees were exposed.

The employer recognized the hazard.
The hazard caused or was likely to cause death or severe injury.
The employer failed to take reasonable steps to prevent or minimize the hazard.
The General Duty Clause is often used to cite employers for ergonomic hazards in the workplace that cause injury and musculoskeletal disorders (MSDs).
Additionally, the California Ergonomics Standard (8 CCR 5110) aims to minimize hazards that cause repetitive motion injuries (RMIs). Repetitive motions and stress on the body can cause fatal, long-term effects, including eye strain, back or neck pain and carpal tunnel syndrome. An employer may be cited in violation of this regulation if the repetitive nature of a job, process or operation has resulted in two or more employees diagnosed with RMIs in the last 12 months.
Ergonomic Hazards
OSHA views ergonomics as the process of designing the job to fit the worker's physical capabilities. Ergonomic hazards and injuries occur when the employee is forced to perform under harmful job conditions.
Reasonable steps that an employer can take to correct ergonomic hazards include modifying tasks, equipment and the work environment. The goal should be to alleviate physical stress and minimize the risk of MSDs in the workplace. Musculoskeletal disorders are injuries or disorders that affect any part of the musculoskeletal system, including the muscles, tendons, ligaments, nerves, joints, cartilage, blood vessels and spinal discs.
In an office setting, the following work conditions associated with computer use may worsen or prolong MSDs in your employees:
Awkward or unsupported neck, back, shoulder, elbow or wrist postures.
Static positions held for long periods, especially when sitting or holding the mouse.
Quick movements, such as bending or twisting.
Excessive force when striking the keyboard or gripping the mouse.
Inadequate recovery time between frequent or lengthy tasks like keying.
Continuous pressure on the wrists, forearms or elbows from the edges of desks and chairs.
You can identify existing problems and hazards from reviewing past injury and illness records, such as the company's OSHA 300 injury and illness logs, 301 reports, first aid logs, workers' compensation records and worker reports. More proactive methods include observing workplace conditions, performing ergonomic job analyses, conducting workplace surveys and interviewing workers.
Workstation Components
Your employee workstations may exhibit areas for improvement in posture, component placement or the overall work environment to minimize ergonomic risks. Appropriate selection and arrangement of workstation features will help employees work efficiently, comfortably and safely.
You may need to improve the following workstation components with a more ergonomic upgrade or placement:
Chairs
Desks
Monitors
Keyboards
Computer mice and pointers
Document holders
Telephones
Wrist and palm supports
Footrests
Consider basic design goals when setting up computer workstations for your employees. An ergonomic arrangement should keep your worker's:
Eyes level with the top of their monitor.
Head and neck balanced with their torso.
Shoulders relaxed.
Lower back supported.
Elbows close to their body.
Wrists and hands in line with their forearms.
Feet flat on the floor or a footrest.
Providing suitable workstations and tools is only the first step. Encourage your employees to perform computer-related tasks ergonomically. It's crucial to explain the benefits of an ergonomic arrangement so your workers maintain safe and healthy behaviors.
Designing a Compliant Workplace
The design of your California workplace must comply with the California Building Standards Code to be legally sound, though there are additional safety benefits to creating a compliant workplace. Install equipment and furniture that are certified and suitable for your workplace needs.
Understanding Your Needs
Create a list of the office safety requirements you need to maintain for all work areas. Consider the protection and safety of employees, customers, other occupants, company property and the building itself. A practical evaluation of your office should ensure the space is ergonomically compliant and meets any safety regulations required by your area.
To better understand your needs, it's critical to recognize:
The codes, certifications and other requirements of offices in your area, including local, state and national levels.
The physical, physiological and psychological demands of each job.
The physical, physiological and psychological capabilities and limitations of your workers.
The potential conflict between a job's demands and the worker's capabilities.
The best product selections and arrangements for improved safety and productivity.
The employee training needed for optimal use of ergonomic workspaces.
Complete a thorough fire safety risk assessment, ensure all products meet the relevant fire or electrical codes and correct any ergonomic hazards in the workspace. Consider working with professionals to ensure a quick and efficient evaluation process, whether you require assistance with fire safety, electrical safety, ergonomic safety or a combination of all safety factors.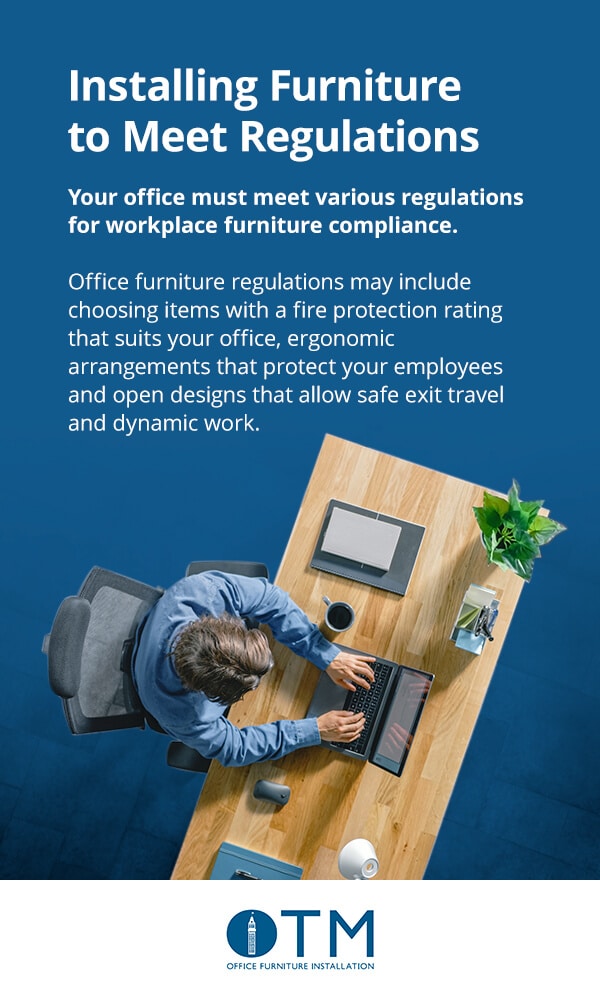 Installing Furniture to Meet Regulations
Your office must meet various regulations for workplace furniture compliance. Office furniture regulations may include choosing items with a fire protection rating that suits your office, ergonomic arrangements that protect your employees and open designs that allow safe exit travel and dynamic work.
Find a professional installation company to ensure a workplace design that's both functional and safe.
Understand the Process
When you choose to work with a professional installation company like OTM Furniture Installation, you can expect meticulous planning and communication for your project. Our in-depth, expert process provides effective execution for a compliant and comfortable workspace that meets your office's needs.
A successful furniture installation process should provide:
A competitive quote based on any pertinent information you are already aware of regarding the job site conditions, logistics or regulations.
Open communication and pre-installation involvement in the process.
Regular updates on the shipping and handling of products to the job site.
Progress reports on the work being performed each day.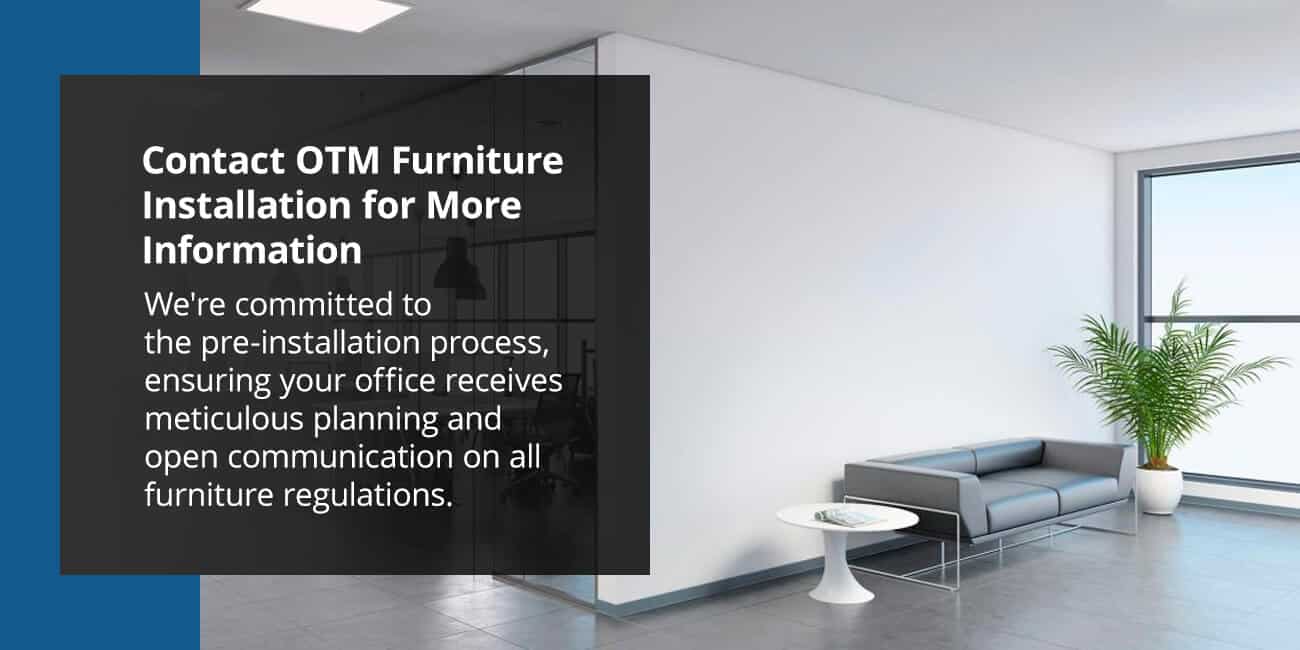 Contact OTM Furniture Installation for More Information
Ensure adherence to regulations such as fire codes, electrical requirements and emergency egress with effective office furniture installation from OTM Furniture Installation. We're committed to the pre-installation process, ensuring your office receives meticulous planning and open communication on all furniture regulations. For more information about our furniture installation process and compliance with regulations, contact OTM today.
Share: