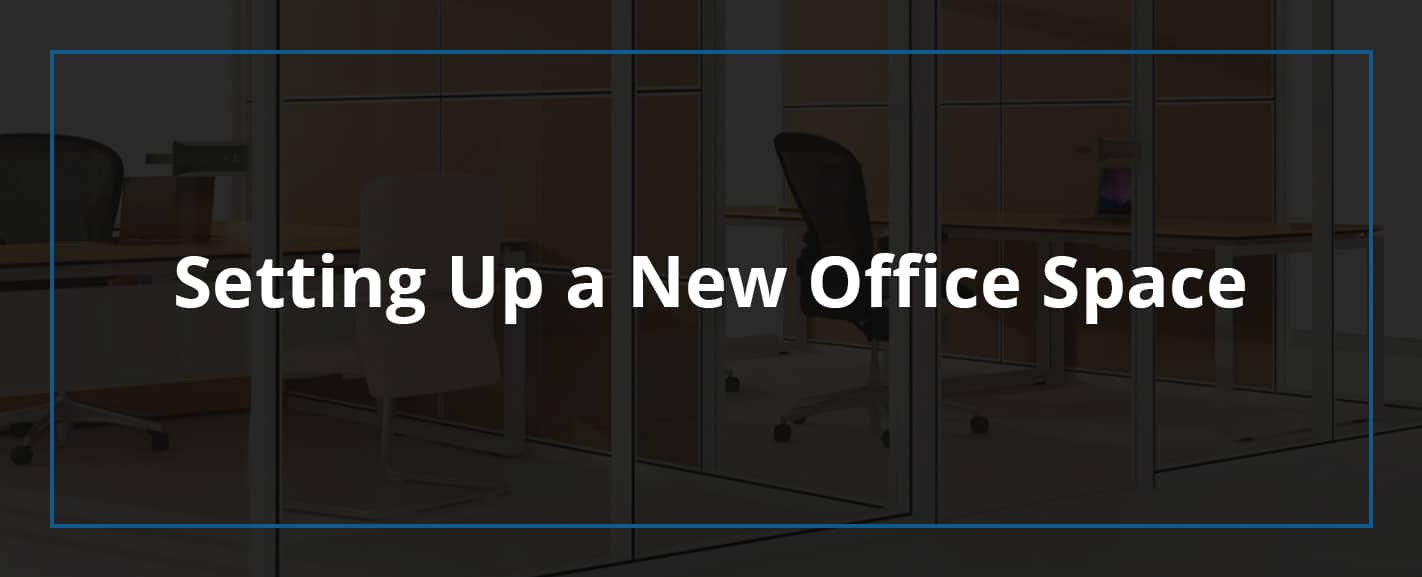 Full-time workers spend much of their lives at the office, so it's understandable that employees want their office to be a pleasant environment in terms of form and function. If you want to create an ideal work environment for your company, you can bring your vision to life by dedicating resources to creating a thoughtful plan and executing it with great care.
The result should be an office that allows employees to thrive and impresses every guest who walks through your front door. If you're starting a new business or want to redesign your office from the ground up, this guide will help you understand how to set up a new office space.
Step 1: Planning Your Project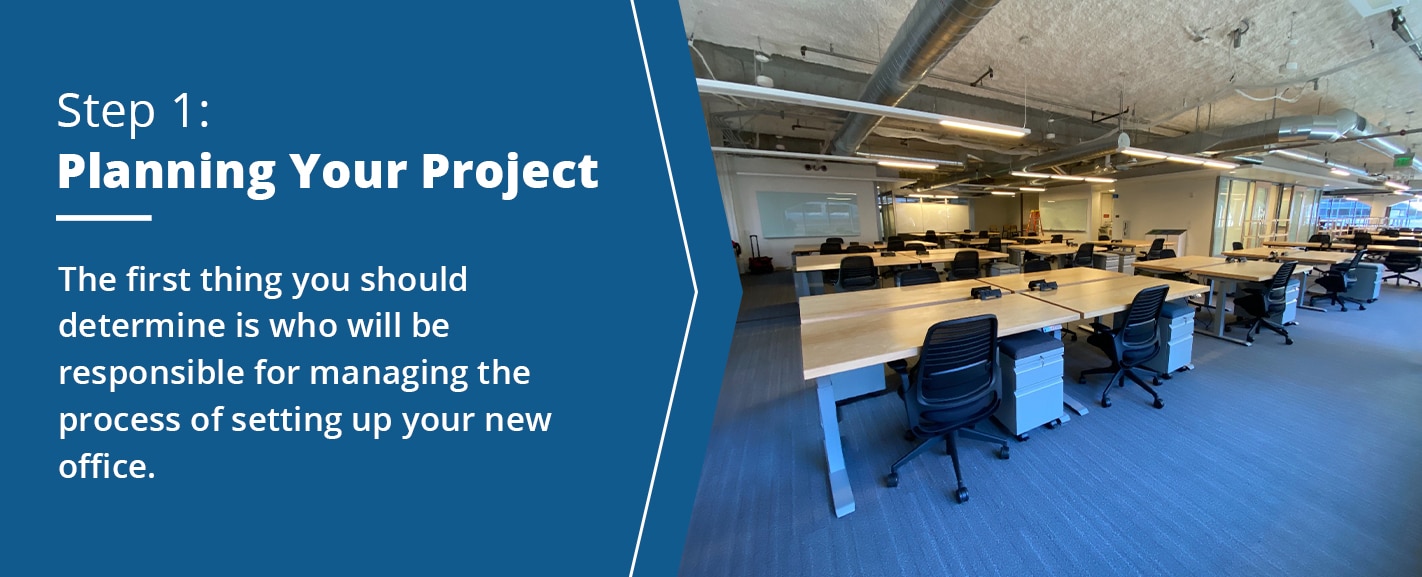 The first thing you should determine is who will be responsible for managing the process of setting up your new office. You can outsource this project to a professional interior designer, but you'll still need to appoint someone from your company to work with the designer. This person will provide information on your organization's needs and preferences for your new office. Working with an interior designer comes at a cost, but it delivers several benefits. A commercial interior designer can help by:
Weighing competing needs to make the best design decisions.
Thinking through details you may not have considered on your own.
Serving as the point person to coordinate your design project.
If you choose to hire a designer, look for someone who has experience in office design or primarily works with commercial spaces. If you want to handle the process in-house, whether for budgetary reasons or to maintain more control over the project, figure out who from your company will head up and work on the project. You may want to create a task force that includes your office manager and a member of each department. For new businesses that aren't yet staffed, the owner may need to manage the project.
The key is knowing who is responsible so that person or team can create a project management checklist and timeline to ensure every aspect of your office is thoroughly planned and executed. This planning stage is also when you should establish your budget. Having a general idea of your budget can help during the design phase, and it's especially critical during the purchasing stage.
Step 2: Designing Your Office
The first and usually most involved stage of setting up a new office space is designing it. There are several aspects to consider when planning your ideal office. A detailed design plan is essential if you want to create an office that looks and functions exactly as you need it to. In the design stage, you should take into account your business's practical needs, the physical space and the aesthetic you want to achieve.
Understand Your Business's Practical Needs
Consider what sort of functionality your company needs out of its office space. The perfect office for a company next door will likely look different than your perfect office. Determine your company's needs regarding:
Work style: What sort of work processes do you want your office to facilitate? The big question for many companies is whether to create an open office plan, individualized office spaces or a combination of the two. Consider whether your staff needs multiple collaboration spaces or whether one conference room suffices. You may also want to include a lounge area where employees can relax or enjoy a change of scenery.
Privacy: In some organizations, privacy is a major priority. For example, if employees regularly take calls from customers, they may need separate, soundproofed offices. If you deal with sensitive information, you need more serious security measures to protect certain rooms and equipment in your facility. Privacy is also important if you discuss confidential information with clients, as may be the case in a law office, for instance.
Equipment: Remember that your office will house your equipment in addition to your employees. What types of equipment do you need in your office, and where do you need this equipment positioned to be accessible to those who need it? For some offices, a single room with some printers, copiers and a fax machine is sufficient, but your company may have other equipment needs.
Storage: You may also need to store certain items in your office. If so, make sure you factor in these storage needs. You don't want to end up cramming filing cabinets or office supplies into a closet as an afterthought or allowing them to accumulate in spaces where they're in the way. Instead, design storage spaces that allow you to properly stow and easily access objects.
Growth: If your company is growing, you need to plan ahead for that growth in your office design. This may mean leaving some extra space in each department or opting for modular office furniture that makes it easier to rearrange and add more workspaces as needed. As with other aspects of your company, your office can enhance or detract from your scalability.
Evaluate Your Space and Layout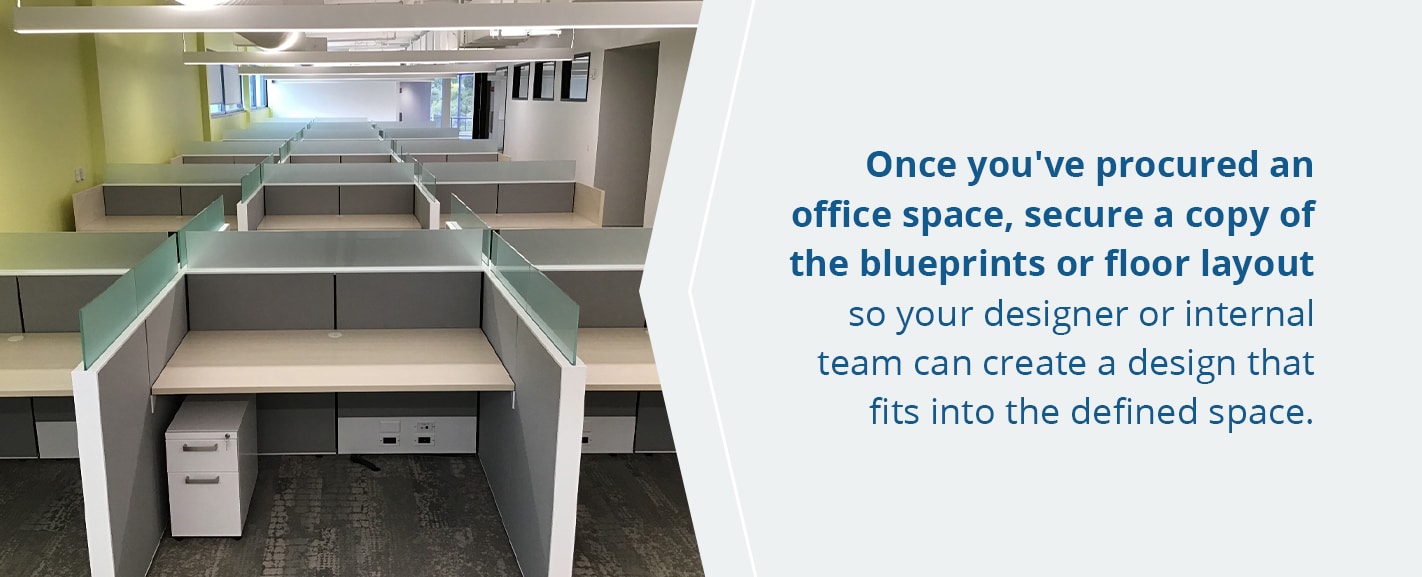 If you're looking for an office location, use the company needs you evaluated to help you choose an ideal space. Of course, there are other factors, such as geographical location, budget and size, that will go into choosing the office space you rent or purchase. Be sure to choose a space that is within your overhead budget but also provides some room to grow.
Once you've procured an office space, secure a copy of the blueprints or floor layout so your designer or internal team can create a design that fits into the defined space. Note the locations of entrances and exits, walls, closets, restrooms, electrical outlets and any other features you want to factor into your design. If you notice any problems, such as a wall where you don't want one, you should address these architectural features before continuing with your design.
Ensure that any changes you make and all your design plans comply with relevant regulations, including local building codes. There should be clear pathways to emergency exits, for instance.
Envision Your Ideal Aesthetic
Setting up a commercial office space is about more than just function. The visual aspects of your office are also important in several ways. Your office's aesthetic influences employees and clients who visit your space. The aesthetic should serve as an embodiment of your brand. Employees and clients should feel immersed in your company culture and your unique brand identity whenever they're in your office space.
Your office space may serve as your first impression to potential clients or business associates, so you should carefully craft the impression you want to give. Maybe you want your office to appear sleek and ultramodern to emphasize your company's commitment to innovation. Or perhaps you want to cultivate a traditional aesthetic with ornate furnishings to emphasize your company's staying power and commitment to quality. Maybe you want to create a fun, youthful atmosphere that breaks the typical office mold to show off your company's creativity.
For the employees who work in an office, the environment is about creating an atmosphere where they can thrive. Research has long shown a strong connection between employees' moods and productivity levels and their workplace environment. Design features like lighting, artwork and furnishings can all have an impact. Multiple studies have shown that artwork, in particular, can improve employee experience and achievement, lowering negative feelings like anger and stress and increasing morale and performance.
Consider creating a vision board or using other design techniques to get an overall feel for the aesthetic you want to achieve. See which aspects of your company values or personality you can translate into design elements like colors, patterns and materials, and use these elements to guide your design.
Step 3: Purchasing Furniture and Equipment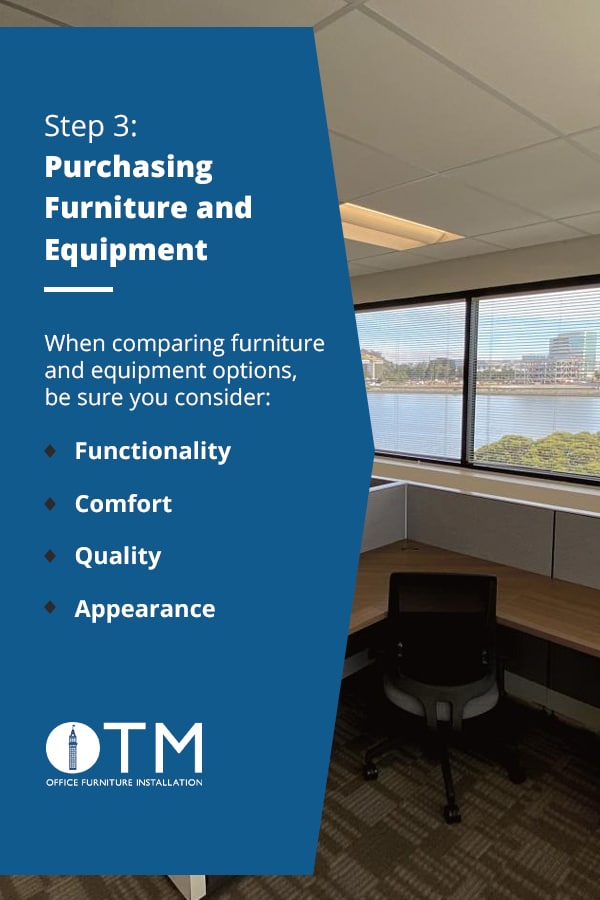 Once you have a design plan, you can start to purchase the furniture and equipment you need for your office. When comparing furniture and equipment options, be sure you consider:
Functionality: Choose equipment and furniture that offers the functionality you need. For example, when comparing reception desks, choose one that offers the storage your receptionist will require and that fits appropriately in your reception area.
Comfort: You should also take employees' and guests' comfort into account. This may mean purchasing more ergonomic office chairs and desks or cushioned reception seating. Remember that comfortable office furniture allows employees to work easier and harder.
Quality: You should also consider the quality of furniture and equipment to get an idea of how durable and long-lasting it will be. For example, a conference room table made from solid wood is likely to outlive a cheaper laminated option and may look nicer, as well.
Appearance: Appearance is important, especially for furniture, since your office furniture can help you achieve the design aesthetic you're after. Choose colors, materials and patterns that fit your brand and the overall feel you want in your office.
Remember to factor in your budget as you make purchases. If it becomes apparent that your original budget will be too limiting, you can conduct a cost-benefit analysis for the design features you want to implement that exceed your budget.
Putting too much emphasis on keeping costs as low as possible may lead you to purchase furniture and equipment that doesn't fully meet your needs or breaks down too soon. As with any business investment, think long-term about the return on your investment to choose the best options for your office.
Step 4: Bringing Your Design to Life
With a design plan in hand and your furniture picked out, you can bring the plan to life. This is where the heavy lifting comes in. If you're installing furniture yourself, you'll need to pick up the furniture or coordinate a delivery time. Most pieces of commercial office furniture will come to you in pieces and will require assembly. Expect to invest a good deal of time in installing your office furniture if you do it yourself.
A better alternative is to bring in professionals who can execute the vision your designer, task force or project manager created. There are several reasons why it's smart to use a professional office furniture installation company:
Tools: Professionals will have the tools they need to assemble your office furniture. There's no need to purchase tools you'll never use again and struggle to use them correctly. Leave the assembly to an expert who has exactly what they need and knows how to use it.
Efficiency: If you try to install your furniture yourself and your colleagues, you can expect to spend longer on the project than a professional installation service would. Experienced professionals can work quickly without compromising the quality of the finished product and can get it right the first time.
Care: Imagine the frustration of purchasing new furniture and damaging it in the process of trying to move it in and assemble it yourself. This scenario is far less likely when you entrust the installation to professionals. They know how to handle your furniture with care and deliver a polished finished product.
Safety: Another problem you can run into if you aren't used to assembling furniture is safety issues. Especially in the case of large or heavy objects, the safer option is to let the professionals handle the installation.
Cleanup: Professional installers will also clean up the mess of packaging, tools and other items that can litter the floor when you're installing new furniture. This makes the process truly effortless for your team and allows you to see your vision realized as soon as the installers are finished.
Expertise: Overall, furniture installation professionals have extensive experience in setting up furniture, meaning they've already overcome the learning curve and have the expertise needed to get the job done right. When you want professional results, you should trust the professionals.
Make sure you communicate with the installation company so they know exactly where each item should go. For modular office furniture installation, ensure installers know how you want the furniture assembled since there will be multiple layout options for connecting pieces.
Enlist a Furniture Installation Expert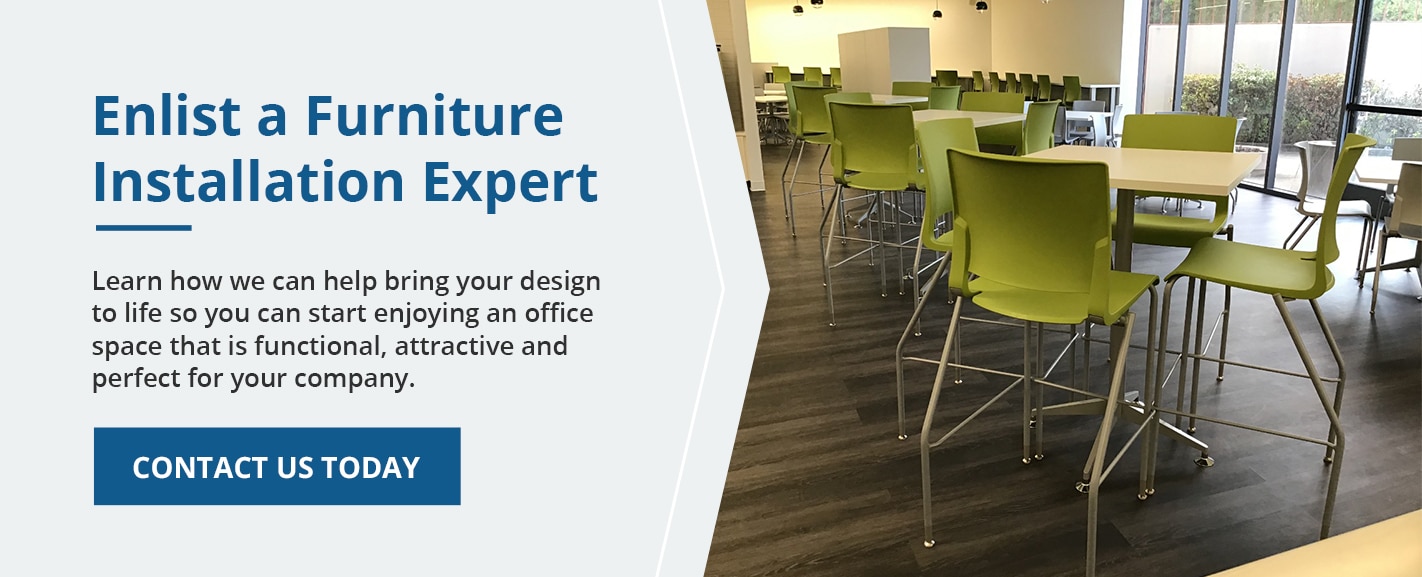 For commercial office furniture installation, trust the experts at OTM Furniture Installations. Over the last decade, our company has developed a reputation for excellence and has grown to become one of the most prominent office furniture installers in Northern California. Furniture dealerships, suppliers and designers throughout the region count on us to expertly install a variety of office furniture types from various brands, including Steelcase, Herman Miller, Knoll and Teknion. From sit-stand desks to soundproofing to open and cellular workstations, our team can do it all.
While we're best known for our work in the greater Bay Area, we have taken on jobs throughout the United States. Contact us to learn more about how we can help bring your design to life so you can start enjoying an office space that is functional, attractive and perfect for your company.
Share: